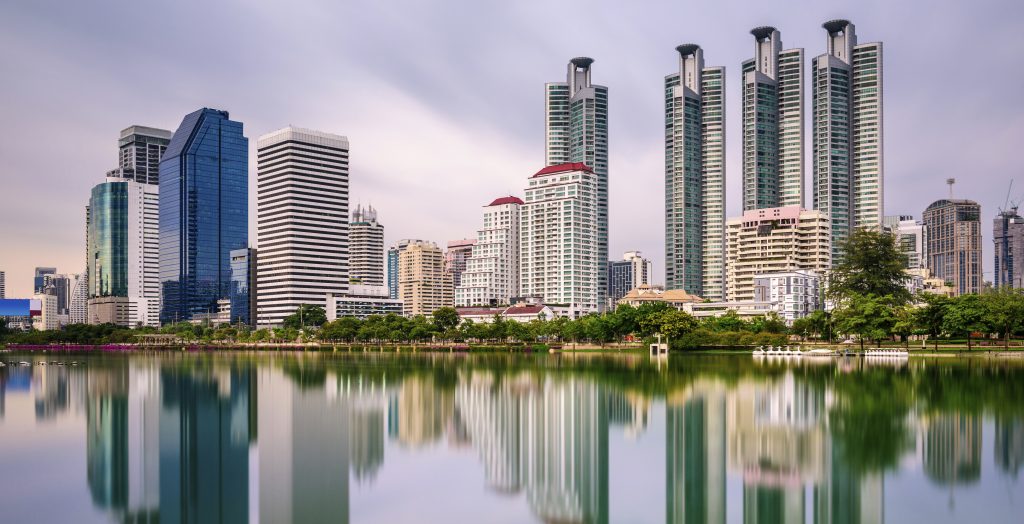 Bangkok is a world-class city, and guests who come to stay at Centre Point Sukhumvit 10 are usually here for business purposes or to enjoy the cosmopolitan attractions of Bangkok.    And with so many beautiful temples, world-class shopping malls and exciting entertainment options,    it's easy to overlook the fact that Bangkok also has a few quiet enclaves and green spaces where you can exercise, take time to relax or simply enjoy the outdoors.
For that reason, we thought we would take a moment to offer our readers insight into which parks and gardens are easiest to visit from our hotels in Bangkok. For guests staying at Centre Point Sukhumvit 10, we're recommending paying a visit to Benjakiti Park. Small as it is, this is one of the most picturesque and accessible parks in the city. It makes for an idyllic retreat from the hustle and bustle of life in the city – even if you only have a few minutes to spare.
Benjakiti Park: The Perfect Way to Frame the Bangkok Skyline
Even if you are not familiar with Benjakiti Park, chances are good that you've seen it in online images and on postcards. This is one of the most often-photographed parks in Bangkok, because it's easy to catch a captivating angle over the city skyline rising over the park's small lake. To make the view even more picturesque, the lake has several lovely fountains.
The lake is also fringed by colourful flowers along with ornamental bushes and trees throughout the year. With the reflection of Bangkok's skyscrapers drawn down into the water, it really is a sight to behold. That's why we eagerly recommend that any of our guests stop by Benjakiti Park if they have time.
Benjakiti Park Highlights
This is a relatively new park in Bangkok.  It opened in 2004 to honour HRM Queen Sirikit on the occasion of her 72nd birthday. For that reason, this park still isn't quite as popular as some of the longer-running green spaces in Bangkok. But for those who are in the know, there's plenty to do and enjoy at Benjakiti Park.
To begin with,  the lake is fringed with a jogging path following a 2 km circuit around the lake.     But one of the stand-out features of this park is that it has a separate cycling path – a rarity in Bangkok. For those who have ever tried to negotiate a walking path shared with faster-moving cyclists,   this is a major selling point.   You can also rent a swan-shaped pedal-boat and take it out on the lake. There are also children's playgrounds, a skateboard ramp and a few other attractions to enjoy in the park.
Let Us Know If You Would Like to Visit Benjakiti Park
All in all, Benjakiti Park makes for an outstanding escape for those based in the lower Sukhumvit area. If you have any questions or would like to know how to reach the park from the hotel, feel free to speak with our front-desk staff.