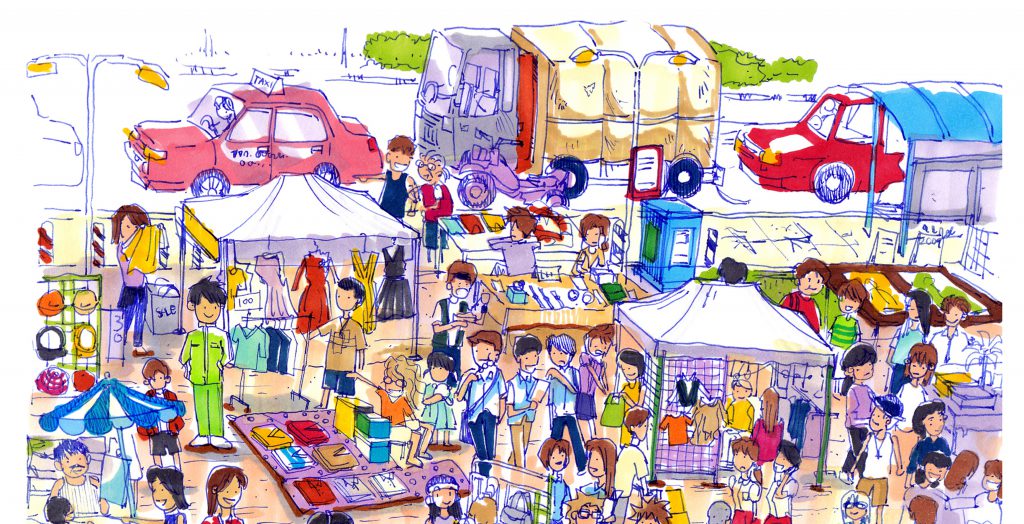 While you're touring around Bangkok, you can't miss the biggest wet market in the city, the Klong Toey Market. Not only is this market the largest in the captivating capital city, it's also one of the most authentic markets. Vendors mostly sell fresh food, spices, extra ingredients, and kitchen equipment so you see many locals shopping for their restaurants or food stalls.
The Klong Toey Market originally gets its name after a historical canal that was established in the region. Klong Toey actually refers to Pandan Leaves, which are popular leaves to use in many Asian dishes. When eating coconut rice or a sweet rice pudding snack, you might be able to taste the traces of this very fragrant leave. There's no perfect way to name an aromatic market that will definitely awaken your tastebuds.
Touring Klong Toey Market – The Best Wet Market in Bangkok
Imagine walking through aisles and rows of fresh seafood caught that day, freshly picked and pungent chilis, not to mention, the many stands of food carts and stalls. This is the daily scene at the Klong Toey Market. You'll also get a chance to see many of the locals barter and haggle with the food vendors. It's quite a sight, and if though you might not understand what's going on, you'll love watching the dynamic engagement.
If you're a Thai curry fan, you will be surprised by the amount of curry powders this market has. With so many different colors of curry powders, each having their own unique flavor, it really helped explain why Thai curry is so popular in Bangkok. Crimson red, vibrant orange, and neon yellow chili peppers sit in a large wooden barrel, waiting to be chosen by a Thai chef. Fresh catches and newly butchered chickens balance the sweet and spicy scents of the market. If you're a bit squeamish you'll want to avoid the meat chop block, unless you're looking for a cool photo opportunity.
Lunch Break – Where to Find the Best Food Vendors
With all the food exploration, you'll start to get hungry after feasting your eyes on the bountiful amounts of food. Don't worry, there are food stalls and carts lined up to help fulfill your cravings. Some of the best street food in Bangkok can be found here. You can't miss out on trying a perfect steamed dumpling, stuffed with the most tender meats. Another unique street food you can't miss trying at the market is Thai Khao Lam. This popular Bangkok snack is made of sweet sticky rice, black sesame seeds, and coconut cream. It's then cooked in a bamboo stick and served to you. It's a truly authentic dish because where else can you eat a sweet treat out of a bamboo stick?
If you can't go a day without eating fruit, this is a great market to try the tastiest raw fruits of Asia. There are all types of fruit vendors selling massive coconuts, jackfruit, and durian (the infamous smelling fruit of Asia). You'll also find many fruits you're familiar with such as grapefruit, oranges, and bananas. Our favorite snacks are the small bananas that you can tell have been handpicked from a banana tree. I also enjoy sipping on a refreshing coconut water drink as I browse the markets fresh picks.
Location and Hours of the Klong Toey Market
The Klong Toey Market is not open 24 hours, but it does start very early in the morning. If you walk by the market around 2:00am, you'll start seeing vendors setting up their shops. They won't stop selling until 6:00pm, just in time for dinner. It's advised to come to the market early in the morning so you can beat the heat. Yet, if you want to see the throngs of people, coming to the market for lunch is a perfect time too. Either way, you should come hungry because you'll get a real bargain for the best fruits, vegetables, and sweet snacks.
The Klong Toey Market is located in the Klong Toey district on Rama IV Road. You can easily take the metro and get off at the Klong Toey stop, or you can relax and stay at our nearby Centre Point hotel location. At Centre Point Sukhumvit, you're not only close to the Klong Toey Market, you're also in walking distance to many other fantastic sites, such as Terminal 21. If you love shopping, find out why the Amazing Thailand Summer Sale is an event you won't want to miss.