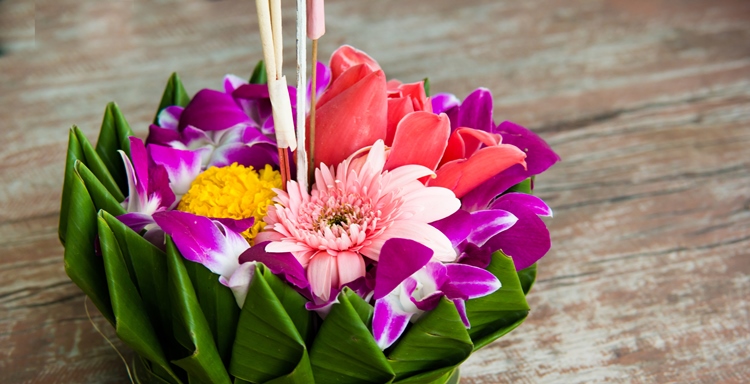 Every year, in the 12 month of the lunar year and on the night of the fullest moon, everyone in Thailand goes out to celebrate Loi Krathong. Loi Krathong takes place every Autumn, typically in the month of November. Thailand is one of the several countries that hosts the celebration of Loi Krathong. You can't miss out on this incredible celebration if you plan to be in Thailand during this time. This year, in 2017, the celebration will take place on Friday, November 3rd.
What is Loi Krathong?
Loi Krathong is a day to praise the spirits of the river. It is believed that the Loi Krathong celebration is derived from a ceremony that pays respects to the spirits of the water. On the lively night of the full moon, everyone takes their small handmade boats out to the water to watch it float and make a wish. Many people also place coins or small pieces of food as a gift for the river gods. It is also common to place a candle in the boat, which helps create a beautiful glow across the river. Just be careful and make sure your boat isn't carrying too much or else it will sink!
The Meaning of Loi Krathong
Loi Krathong comes from two different words in the Thai language. Loi means "to float" and Krathong means "a small container of leaves." So Loi Krathong basically translates to floating a vessel of leaves. However, in actuality, people actually make boats out of banana leaves, and nowadays, even water resistant paper. There are so many different materials people use to make their Krathong out of, so don't hesitate to get creative!
The one material you are forbidden to use is styrofoam. Since Thailand hires people to clean the ponds and waterways after the festivals, they have found styrofoam to be toxic to the environment. Yet anything else is great to use and luckily there's a cleaning crew that picks up everything so you don't have to worry about retrieving your boat (especially if it sinks)!
Where to Celebrate Loi Krathong
Looking for the most amazing place to celebrate this fun event in Bangkok? Luckily, if you're planning to be in the capital city on Friday, November 3rd, you will get a chance to join in on the fun. There are plenty of places with ponds and access to the city's central river that you won't skip the opportunity to celebrate your first Loi Krathong.
If you're planning to stay in the Sukhumvit district, we recommend heading to Benjakitti Park to participate in their celebration of Loi Krathong. The Benjakitti Park has a large lake in the center of it, making it one of the best places to float your Krathong. Many locals come to this park every year to float their vessel and watch the lake light up while the full moon shines below.
Benjakitti Park is very close to Sukhumvit Road, which is one of the main streets that cuts through all of Bangkok. This is a great location that's nearby many great places to eat and shop. Some of the world's best malls are in this area, such as The EmQuartier and The Emporium. If you're staying close to Benjakitti Park, you'll be staying in the bustling Sukhumvit district. You'll be close to the public metro line, convenient stores, and other fun activities.
Finding the Best Place to Stay
If you're still trying to find a comfortable place to stay in the golden city of Bangkok that is also close to Benjakitti Park and the Loi Krathong festival, you should consider staying in Sukhumvit. Luckily, Centre Point has five locations, one of them being in the Sukhum district. The Centre Point location is literally a 2 minute walk away from Benjakitti Park, you can't get closer than that! Check to see if there's a suite that'll fit your style, we'd certainly love for you to stay with us during the Loi Krathong holiday.
Wishing You the Best Loi Krathong!
We are excited for your time touring Bangkok and celebrating your first Loi Krathong (hopefully it's actually your second or third time partaking in the festivities). Just be sure to make a wish as you watch your boat glide smoothly across the water. We hope you have a wonderful Loi Krathong, cheers!