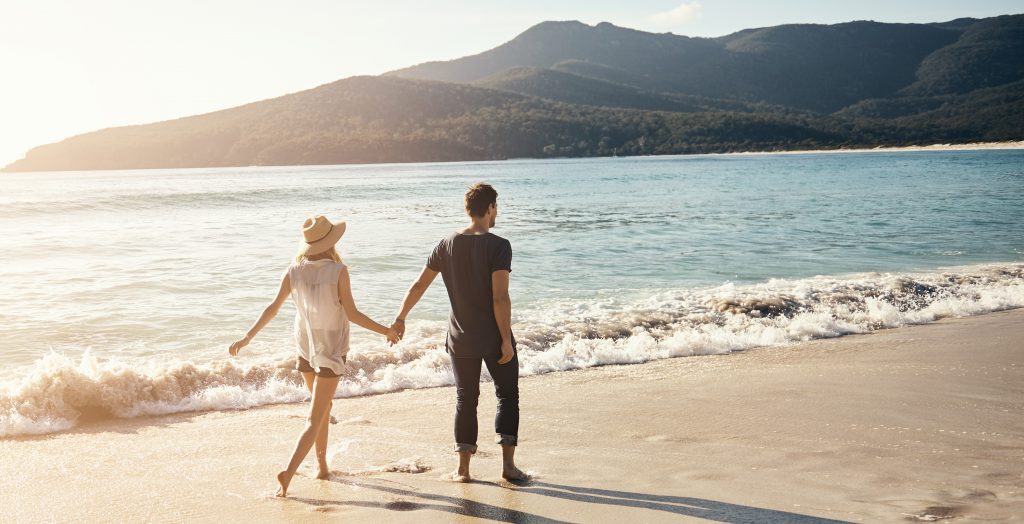 Centre Point Hotel Sukhumvit is our oasis of nature in the bustling city centre. But it isn't the only place where you can enjoy nature during your stay in Bangkok. Check out the nearby Koh Chang Beach, within easy travelling distance of our hotel, and plan a day or a whole week of fun and relaxation.
Introducing Koh Chang Island and Beach, The Ultimate Place to Hang Out During Your Stay
Koh Chang Beach is considered one of the finest in Thailand, with an extensive shoreline of white sand, and a splendid background landscape of mountains, tropical rainforest, waterfalls, magnificent cliffs, and teaming wildlife, both on the land and in the seawater.
Koh Chang itself is sparsely populated, but has been extensively developed in the last fifteen years for visitors. There are few resort activities that you will not find on this beautiful island, from watersports to restaurants to a highly active nightlife.
The beach is divided into two parts: the western side, which is extremely popular among tourists, and the quieter but still stunning eastern side, where it's frequently just you and Nature.
Fantastic Food and Thai Cuisine Opportunities
Koh Chang has been developed by the locals to give you the very best in Thai culture, so it will be easy to find amazing food vendors, eateries, and restaurants wherever you go. Come hungry and expect plenty!
Love the local cooking? Several resorts on Koh Chang beach offer Thai cooking classes, so that guests like yourself can bring our amazing cuisine back home with you.
Trails and Hiking Places on Koh Chang Island
70% of Koh Chang is still wilderness in all its beauty. Trails and tracks through the jungle and up the mountainsides make it the nature lover's dream island.
You can hire a tour guide for half a day or a full day to lead you cross-country through the rainforest, either to two of Thailand's most breathtaking waterfalls, Klong Plu Waterfall and Than Mayom Waterfall, or up one of the mountains for a panoramic view of the isle and ocean. Note that the going can get quite tough on these trekking adventures, and they aren't recommended if you plan on bringing young children with you. But for an adult who's up to it, the experience will be memorable.
You can also join a tour for local bird watching, where an experienced guide will be able to point out to you the island's many native bird species, including sunbirds and parrots. Tours are available year around and usually involve an entire day exploring the rainforest and wildlife.
The meaning of the words "Koh Chang" are "Elephant Island", and the place remains true to its name! Elephant rides are offered by several services on Koh Chang, with treks that will take you through the jungle to secluded waterfalls and viewpoints. Some providers also give an elephant performance show and allow you to watch the daily bathing and feeding of the animals.
What to See and Do on the West Side of Koh Chang Island
White Sand Beach on western Koh Chang sounds just like what it is: an absolutely idyllic tropical white seashore by azure water and lush green palm trees. It's like walking into the perfect vacation postcard.
Some parts of Koh Chang beach offer a rowdy, fun-filled nightlife with DJ's or live music, cocktails, and moonlight dancing on the sand.
It's simple to rent a boat from Koh Chang Island and spend the day relaxing on the water. Other activities available include scuba diving and snorkeling, both being extremely popular due to the fantastic tropical marine life in the coral reefs.
There's something about the sea salt and the ocean breeze that sometimes makes you want to feel and look your best! Get a soothing massage or have your hair and nails done at one of the many spas within strolling distance of the beach.
What to See and Do on the East Side of Koh Chang Island
This is the part of the island where you can see what tropical life is like for the locals. Explore the area to see charming little fishing villages, fruit plantations, and small secluded beaches hidden from the trample of tourism.
Unlike the wild life on the west coast, where fun and rowdiness go together, the east side is far more serene. Three small resorts offer a local atmosphere and a kick-back-and-relax opportunity in the peace and quiet.
Unlike on the west side, any hiking and jungle trekking you do is likely to be on your own. For those of us who can't help but ache every time we see a small trail, wondering where on earth it leads to, this is your opportunity to go exploring without any restrictions whatsoever!